New, peer reviewed journal, Evidence-based HRM (EBHRM)
12.10.2012
Call for papers
New journal for 2013
Evidence-based HRM: A Global Forum for Empirical Scholarship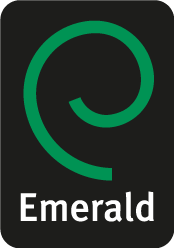 Editor-in-Chief: Prof. Thomas Lange, University of Hull, UK and Curtin University, Australia
Associate Editors: Prof. Karin Sanders, ASB, UNSW, Australia; University of Twente, The Netherlands
Assoc. Prof. Gail Pacheco, Auckland University of Technology, New Zealand
We are currently seeking papers for Evidence-based HRM: A Global Forum for Empirical Scholarship (EBHRM), to be launched in 2013. The journal promotes empirical scholarship in the Human Resources (HR) arena and aims to provide an international forum and important reference for the encouragement and dissemination of applied research.
The journal is committed to publishing scholarly empirical research articles that have a high impact on the HR field as a whole. Drawing on multiple social science disciplines, it will publish high quality papers using econometric and statistical methods to fill the gap between conceptual arguments and observed data.
EBHRM publishes original research papers, empirical case studies and reviews of the body of empirical research endeavours. The journal also includes research notes and conference news.
Coverage:
The coverage of the journal includes, but is not limited
to:
Cross-cultural determinants of job motivation
International change in work values
International/comparative measurements of wellbeing in the workplace
Organizational leadership and leadership development
Recruitment and retention practices in multinational organizations
Reward systems in high performance organizations
Corporate career rewards for women in developed and developing economies
Impact of corporate behaviour on expatriation / repatriation
Social interactions and social learning in international contexts
Cultural, social and ethical issues for international HRM (IHRM)
International evidence on causes of work-related burnout and stress
International assignment management.
Submit a paper
Submissions to EBHRM are made using ScholarOne Manuscripts, the online submission and peer review system.
Registration and access is available at:
http://mc.manuscriptcentral.com/ebhrm
More information, including author guidelines, is available at: www.emeraldinsight.com/ebhrm.htm