Keynote Videos
The current page includes the videos of Keynote speakers given in past EAWOP congresses.
Deanne Den Hartog, The University of Amsterdam, The Netherlands
Title: The good, the bad and the ugly: Ethical and unethical forms of leadership in the workplace
Eva Derous, Ghent University (Belgium)
Title: Hiring discrimination: When your resume is (not) turning you down
Ute Hülsheger, Maastricht University, Netherlands
Title: Mindfulness@Work: What we know … and what we don't know
Mika Kivimaki, University College London
Title: Psychosocial factors at work and health - what have we learned from mega-studies?
Lourdes Munduate Jaca, University of Seville
Title: Conflict management in the changing world of work
Michelle Ryan, University of Exeter Doctoral College
Title: How context and identity constrain women's career choices
Dieter Zapf, Goethe University Frankfurt (Germany)
Title: Emotion Work In Organisations: Recent Developments And Open Questions.
---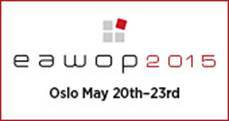 Daan van Knippenberg, Erasmus University Rotterdam (NL)
Title: Value-Based Leadership
Karina Nielsen, Norwich Business School (UK)
Title: The role of line managers in making or breaking organizational change interventions
Susan Fiske, Princeton University
Title: Talking Up and Talking Down: Power of Positive Speaking
Jacqueline Coyle-Shapiro, London School of Economics (UK)
Title: Managing the Employee-Organisation Relationship in Turbulent Times
Magnus Sverke, Stockholm University (SE)
Title: Changing employment relations and perceptions of job insecurity: Challenges for employees and leaders
Zeynep Aycan, Koç University (TR)
Title: Leadership for Responsible and Sustainable Environments: Cross-Cultural Perspectives