Next congress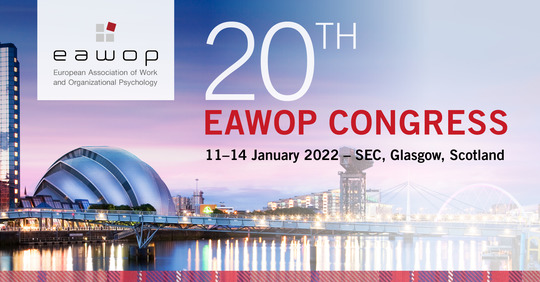 The next EAWOP congress will take place 11-14 January 2022 in Glasgow.

The congress is being organized in association with the British Psychological Society and may be the first opportunity for our community of Work and Organizational Psychology academics and practitioners to once again meet and share ideas. We know there is a possibility that the new normal will still not include a face-to-face congress, and if so, we will provide a virtual event, but all our focus now is on planning a real meeting.

The Congress theme is: Interventions at Work – Integrating Science and Practice.

We have a full invited programme <link: https://www.eawop2022.org/invited-programme> with exciting keynotes, current issue presentations and symposia. There will also be a full workshop programme. We welcome submissions of papers, posters and symposia from both academics and practitioners. There are also some new submission categories to the programme this time including short presentations (7 minute science) and demonstrations of interventions. In addition selected poster presenters will be invited to give a 2 minute "lightning talk" to introduce congress delegates to the topic of their poster. The deadline for submissions is 30 June 2021. Full details are available on this link: https://www.eawop2022.org/submissions/
We will also be holding our own General Assembly during the congress with details and discussions of what we have done and our future plans for EAWOP.
The Congress location is Glasgow, Scotland. This is an exciting city with a vibrant culture as well as an interesting industrial history. There are plenty of restaurants, hotels and places to visit. There are direct flights from many European cities so it is easy to access. Our congress will be at the purpose built conference centre on the banks of the river. Check out our venue for more information.
We look forward to seeing you in Scotland
Some diary dates:
Submissions close: 30 June 2021
Full programme available: 1 October 2021
Early Bird Registration closes: 29 October 2021
Congress Workshops: 11 January 2022
Opening Ceremony: 11 January 2022
Closing Ceremony: 14 January 2022