EAWOP at the EFPA Conference
17.09.2015
The 14th European Congress of Psychology, organized under the auspices of EFPA (European Federation of Psychologists' Associations) was held in Milan, last 7 – 10 July 2015.
EAWOP was present at the Conference in many ways. Thanks to the collaboration with EFPA, during the whole conference, we had an EAWOP booth.
EAWOP association, Constituents and activities (Summer school, Small group meeting, Worklabs or the Specialist Certificate) were presented to interested visitors. In the picture, Salvatore Zappalà and Mauro Ratti (an Italian graduate student) in the booth, in front of the EAWOP roll-up. Many younger practitioners, academics, and also representative of institutions received details about EAWOP activities.
EAWOP was present with other activities: a symposium was organized by the Standing Committee in W&O, chaired by Fred Zijlstra (NL) and Gudela Grote (CH), while Lourdes Munduate (Sp), Per Straumsheim (Nw) and Salvatore Zappalà (It) offered another symposium, presenting the Specialist Certificate project.
Next ECP will be hosted in Amsterdam, in July 2017. EAWOP aims to be present and contribute to the diffusion of W&O psychology topics even in that case.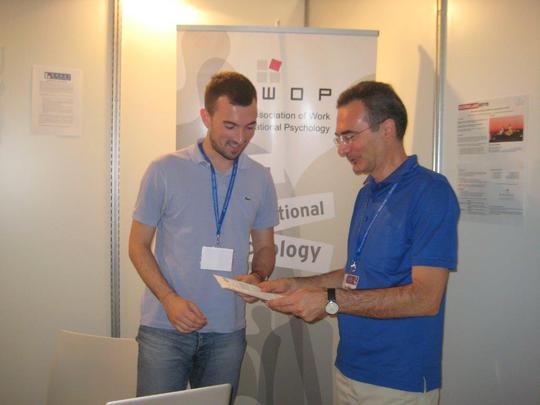 Mauro Ratti (student volunteer) and Salvatore Zappalà (ex-EAWOP EC member)