2016 Biennial IWP Conference on Work, Wellbeing and Performance
02.12.2015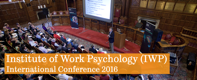 We are pleased to announce that the 5th Biennial IWP Conference on Work, Wellbeing and Performance will be held from 21st -23rd June 2016 in Sheffield, UK.
Our esteemed and inspiring Keynote Speakers for 2016 will be Prof Rolf Van Dick, Prof Gillian Symon, Prof Michael Leiter and Prof Karina Nielsen.
Academic contributions on new developments, approaches and knowledge in the areas of work, well-being and performance research are invited. We look forward to theoretical as well as empirical proposals, which open up new questions and inspire new ways of understanding people at work.
Contributions from all areas of work, industrial, organisational, social and vocational psychology as well as HRM and organizational behaviour are welcome. IWP has been one of the leading centres of work psychology research for over forty years and our fifth international conference promises to be best. Share your ideas and get inspired by the newest developments, find fresh perspectives and dare to pose new questions, meet old friends and new collaborators, here at the Sheffield University Management School.
A welcoming social programme will round up your experience with us. We are looking forward to your submission and to welcoming you to Sheffield in June.
Please take note of the extended deadline: 7th of December 2015.
Find more information about the conference, how to submit an abstract and book your place here: http://iwpconference.group.shef.ac.uk/
The organising team