Associate Professor of Strategic HRM Vacancy
20.07.2018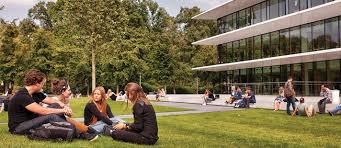 Associate Professor of Strategic HRM (SHRM) (0.8 - 1.0 FTE)
Nijmegen School of Management
Maximum salary: € 6,567 gross/month
Vacancy number: 27.16.18
Application deadline: 16 September 2018
Responsibilities
As (senior) Associate Professor of SHRM you will be part of the chair group of Strategic Human Resource Management. Together with the other members of the chair group, you will further develop the quality and impact of the group's research and teaching activities.
The ambition of the chair group is to become an international centre of expertise on sustainable careers and employability for responsible organisations. You will be expected to be strongly committed to act as a driving force for realising the SHRM group's ambition.
As Associate Professor of SHRM, you will be expected to perform the following tasks:
to provide high-quality courses in the scholarly domain of SHRM;
to develop, supervise and carry out high-quality research activities in the field of SHRM;
to publish regularly in leading international academic journals;
to acquire and develop PhD projects and supervise PhD candidates;
to successfully obtain funding from governmental, European and/or private institutions;
to establish solid contacts with working organisations and other relevant community groups in order to invest in societally relevant (research) collaborations, networks and valorisation efforts;
to participate actively in and contribute to the Nijmegen School of Management's internationalisation activities;
to inspire and coach young scholars, and to stimulate them in the successful development of their academic career.
Work environment
The Nijmegen School of Management (NSM) is an academic centre of research and higher education, focusing on institutional and managerial issues within complex organisations. There are seven disciplines within the NSM: Business Administration, Public Administration, Political Science, Economics and Business Economics, Social and Political Sciences of the Environment, Human Geography, and Spatial Planning. The faculty has four departments: Business Administration; Economics; Public Administration & Political Science; and Geography, Planning & Environment.

The NSM strives for a multidisciplinary approach. The educational programme offers small-scale teaching settings with an emphasis on the development of academic skills. The NSM employs 260 FTEs, of whom 75% are academics. Currently, the NSM has approximately 4,000 students.
The Department of Business Administration consists of five chairs: Strategic Management, Organisational Design& Development, Marketing, Methods, and Strategic Human Resource Management. The department is responsible for the BSc programme in Business Administration (including a full track in English) as well as seven specialisations within the MSc programme in Business Administration (all in English).

The NSM's research activities fall under the responsibility of the interdisciplinary Institute for Management Research (IMR). Under the motto 'Creating Knowledge for Society', the IMR focuses on academic research into the development, design and effectiveness of the public and private structures that regulate, govern or manage human interactions. The IMR is built around six multidisciplinary research themes linked to scientifically and societally relevant issues.
What we expect from you
You should meet the following criteria:
a PhD degree in Business Administration or the Social Sciences;
an excellent reputation within the field of SHRM, evidenced by a strong publication record in internationally recognised, high-quality social sciences and management journals;
experience with attracting research funds from research councils and other external parties;
ample teaching experience, proven effective teaching skills, the capacity to develop and implement innovative teaching methods, and proven ability to supervise the development and implementation of an academic study programme. A Dutch senior university teaching qualification (UKO) or equivalent would be an advantage;
proven ability to inspire and supervise young scholars (PhD candidates);
proven ability to cooperate with and inspire a team of professionals;
substantial international experience and network;
excellent English language skills.

Your reputation should be evident from your CV and publication record. As the group wishes to foster cooperation with other departments of Business Administration, it would be a definite plus if you are familiar with theoretical discussions in these fields and with multidisciplinary research.
What we have to offer
employment: 0.8 - 1.0 FTE;
a maximum gross monthly salary of € 6,567 based on a 38-hour working week (salary scale 14);
the salary depends on qualifications and experience;
in addition to the salary: an 8% holiday allowance and an 8.3% end-of-year bonus;
term of contract: fixed-term contract for 4 years with an evaluation after 2 years. Possibility of extension and permanent contract depending on your performance and the Faculty's financial situation;
you will be classified as an Associate Professor, Level 1 in the Dutch university job-ranking system (UFO);
you will be able to make use of our Dual Career Service where our Dual Career Officer will assist with family related support, such as child care, and help your partner prepare for the local labour market and with finding an occupation.
Are you interested in our excellent employment conditions?
Other Information
The intended start date is 1 January 2019.
Would you like to know more?
Further information on: Nijmegen School of Management
Further information on: Specialisation in Strategic Human Resource Management
Further information on: Institute for Management Research
For more information about this vacancy, please contact:
Prof. dr. Beatrice van der Heijden, Chair Strategic HRM and Professor of Business Administration
Telephone: +31 24 3615454
E-mail: b.vanderheijden@fm.ru.nl
Prof. dr. Yvonne Benschop, Professor of Business Administration
Telephone: +31 24 3613007
E-mail: y.benschop@fm.ru.nl
Are you interested?
You should upload your application (attn. of prof. dr. Beatrice van der Heijden) exclusively using the button 'Apply' below. Your application should include (and be limited to) the following attachment(s):
Letter of motivation
CV
Research and education vision statement
The first round of interviews will take place on Thursday 27 September 2018.
The second round will possibly take place on Thursday 11 or 18 October 2018.
The selected candidates will be requested to present their visions on research and education in English (15 minutes maximum).
More information HERE